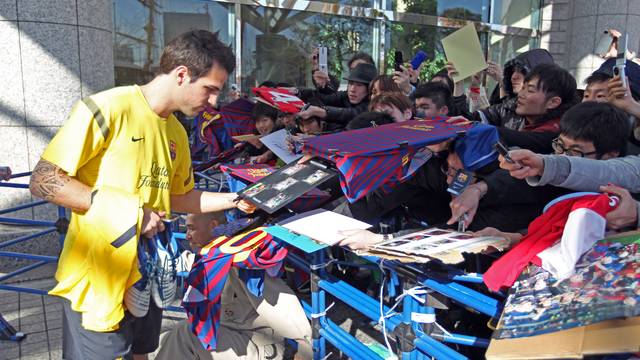 12 of the 23 players that Barça have taken to Japan have never appeared in the competition before
But Valdés, Puyol, Iniesta and Xavi are going for the third time
Although they are all used to top level competition, 12 of the 23 players in the Barça squad in Japan have yet to play in the Club World Cup. These are Fàbregas, Villa, Alexis, Thiago, Pinto, Mascherano, Maxwell, Adriano, Fontàs, Cuenca, Oier and Dos Santos. Pinto, Maxwell and Dos Santos were in the squad in 2009, but didn't play in either match.
Yokohama 2006 – Abu Dhabi 2009 – Yokohama 2011
There are eleven survivors from the first time Barça won the trophy in 2009: Valdés, Alves, Piqué, Puyol, Abidal, Busquets, Xavi, Keita, Messi, Pedro and Iniesta. The four captains (Valdés, Puyol, Iniesta, Xavi) were also in the team that played in the tournament in 2006, but where FCB lost in the final by Internacional of Porto Alegre.
Guardiola's third
It is also Pep Guardiola's third taste of the competition. He lost as a player in 1992 against Sao Paulo (2-1), but 17 years later savoured victory as manager in Abu Dhabi against Estudiantes of La Plata (2-1).