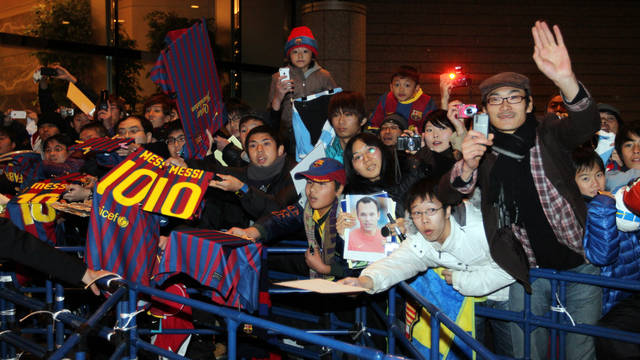 Before Tuesday's training session, the squad will meet up with a number of children who have been evacuated from the disaster area.
During their trip to Japan for the FIFA Club World Cup, the FC Barcelona players will have an informal meeting with 13 girls and boys from the area affected by the nuclear disaster at the Fukushima nuclear plant.
The get-together will take place on Tuesday December 13th at the Yokohama Marinos Sports Center, just before the training session to prepare for Thursday's semi-final. As well as having the chance to watch the stars train, the youngsters, all aged between 9 and 18, who were evacuated from their homes after the disaster and are currently living in a school in Tokyo, will also have the opportunity to chat with the players, officials and Club directors who are in Japan for the competition.
The Tokyo Cervantes Institute and the Spanish Ambassador to Japan have organised the meeting, which will allow FC Barcelona to show its solidarity with the victims and send a message of support to its many Japanese fans.