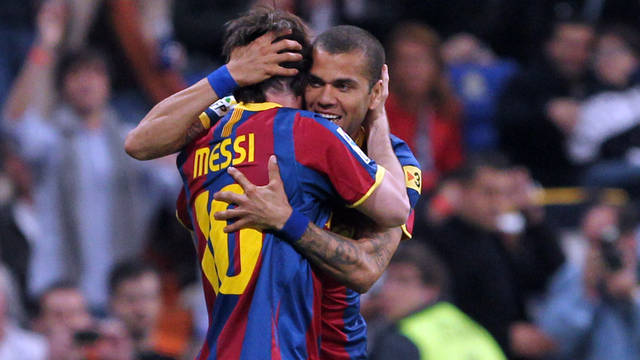 They are the only two players that have appeared in every one of the seven matches played away to Madrid since the 6-2 win in 2008/09
With five wins and two draws, it's a remarkable record
Xavi, Puyol, Piqué and Valdés have played in six of the games; Iniesta and Busquets in five

The FC Barcelona first team has been to the Santiago Bernabéu seven times in the last four seasons and had not lost once. The best Real Madrid have managed are a couple of draws. Dani Alves and Leo Messi are the only players that have appeared in all of these games at the Bernabéu.
6-2 to begin
Both of the South Americans played the full ninety minutes of the 6-2 win that stunned Madrid on May 2, 2009, one of the most spectacular wins in Barça history, and the first of this remarkable period in which the Catalans have constantly outplayed their rivals on their home turf.
Xavi, Piqué, Puyol and Valdés
With six appearances at the Bernabéu in this period, Xavi, Piqué, Puyol and Valdés have also played an important role in the achievement. They are followed by Andrés Iniesta and Sergio Busquets with five.
Five wins and two draws
The 6-2 win was followed by two more victories, both 2-0, in La Liga in 2009/10 and the Champions League in 2010/11. That was followed by the first of the two draws, 1-1 in La Liga.
In the 2011/12 season there were more meetings at the Santiago Bernabéu than ever. The first was another draw in the Supercup, 2-2, then came the Copa del Rey quarter final, with Barça winning 2-1 and then there was a 3-1 win in the league. Not one defeat in four seasons, and hopefully the record can be continued on Wednesday night.