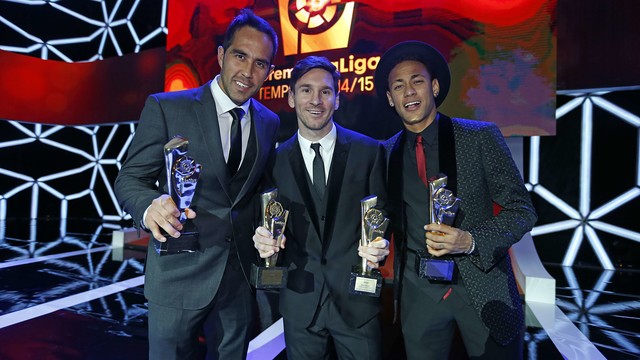 Barça the most successful club with Luis Enrique, Claudio Bravo, Neymar and Leo Messi all winners

FC Barcelona were the stars of the show at the LFP (Spanish Football League) Gala Awards Ceremony for 2014/15 which was held on Monday. The event took place at the International Convention Centre in Barcelona where Luis Enrique, Claudio Bravo, Neymar and Leo Messi all claimed awards, the Argentine taking two accolades, to complement the League Championship claimed last season. All this coming on the same day FIFA announced Messi and Neymar on the shortlist of three for the Ballon d'Or 2015 with Luis Enrique also nominated on the shortlist for Best Coach of the Year.
Four winners and five awards
A quartet of Barça figures were recognised at the ceremony for the role in the 2014/15 league season. The winners in each category were voted for by the captains from each club in the Spanish First Division.
Claudio Bravo won the award for best goalkeeper for a season in which he won the Zamora Trophy, conceding just 19 goals for Barça. The prize was handed to him by his team mate Neymar and the Chilean said in his winner's speech "being here is an enormous privilege and receiving this award is a dream come true." The Brazilian striker returned to the stage to receive his award as best player from the Americas, chosen by voters at the league's official website laliga.es. "I am really happy to have won the award. I thank my team mates for all they do," said Neymar.
Leo Messi picked up the award for best striker and the Argentine generously thanked others for their help in achieving this latest feat. "I share this with my team mates, especially Luis Suárez who was also nominated," said the Barça number 10. Following that Messi also crowned best player and the Ballon d'Or nominee dedicated the prize to his son Thiago before adding "it is a proud moment to receive this award with so many great players in the league."
Strong Barça presence
The category of best coach was scooped up by Luis Enrique and the award was collected on his behalf by Barça director Jordi Mestre. The vice president responsible for the Sporting Area said: "We are sure that Luis Enrique wants to share the prize with all the coaching staff and the players. We are delighted to have him at the Club and hope he stays for many years." Club president Josep Maria Bartomeu was also present and received the award of League Champions for 2014/15. Coach of the Barça Women's team Xavi Llorens was also present as was player Marta Unzué who presented the award for best midfielder in the Second Division to Valladolid's Óscar González. Former Barça captains Xavi Hernández (in a video) and Carles Puyol (presenting an award) also took part in the Gala.