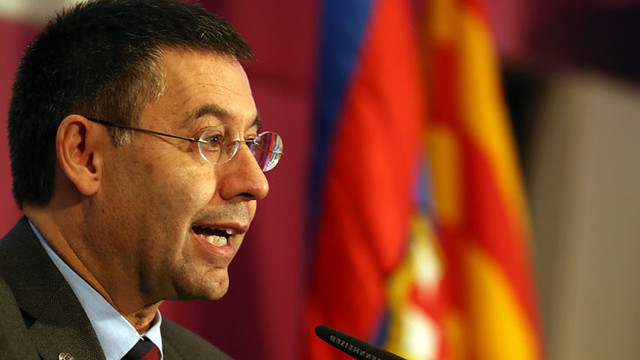 The Barça president claims that the club is looking to improve Messi's conditions "in adaptation to the current situation in football"
"There won't be a revolution, just in-depth restructuring" he said with regard to the squad, which shall remain the duty of Andoni Zubizarreta
He added that "there will be no elections because this board was voted in until 2016 and is enthusiastic about its progress"

Josep Maria Bartomeu has every belief in the leading role of Leo Messi at Barça. Speaking to TV3, the club president insisted that the club is looking to improve the Argentinian's contractual conditions, as well as commenting on several other issues.
"I think people are being unfair to Leo Messi" he commented. "He has led us to so many wins in recent years. He has led the team, and done so very well and we have no doubt that he will continue to lead the club into the future. He's a young player, the best in the world and we have every faith in him."
[[CITA_1]]
The president spoke about a 'modification' to Messi's contract, saying that "he has a contract until 2018 but we want to make him an offer because we need to adapt to the current situation in football."
Full support for squad and staff
Josep Maria Bartomeu also confessed that the club is already thinking about changes for next season. "Some decisions have been made and there are others to be made" he said. "But this is not the time to announce them because we are still playing in a competition. There will be time for that in a few weeks, when we'll be announcing things as they happen. A lot of work has been done and it has all been good work … There won't be a revolution, but there will be in-depth restructuring of the football team".
Bartomeu also spoke in defence of the players, the coaches and the rest of the people working at the club. He confirmed that "Zubizarreta will be leading the process of restructuring the team … And we have a lot of respect for Martino, we still have five games left in the league and it is our responsibility to be competitive and keep up the pressure on the leaders. A few days after that, I'll be speaking personally to Tata Martino about other things".
[[CITA_2]]
The president also spoke about his board, insisting that "there won't be resignations and there won't be elections. This board was voted in in 2010, and the project we have been implementing all this time ends in 2016. We have two years left and we're excited about going forward with this. So there will not be any elections".
Messi has led the team for many years, and done so very well. We have no doubt that he will continue to lead the club into the future
Zubizarreta will be leading the process of restructuring the team, and we'll be announcing things as they happen