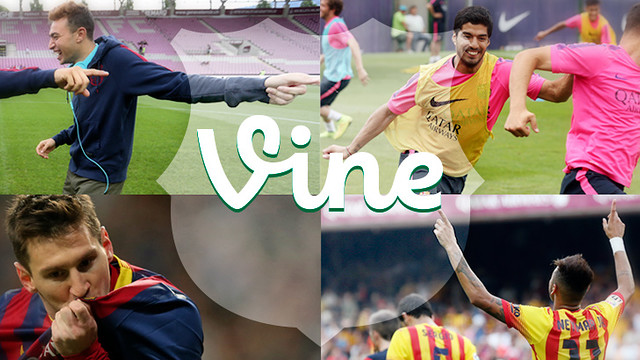 Barça has boosted its multimedia profile with a new channel on Vine
The six second videos will be used to follow day to day happenings at the club from a light-hearted, fun point of view
Barça, the leading club on social networks, will move yet another step closer to its 150 million fans


The Champions League 2014/15 has arrived with another special gift for Barça fans in the form of the new official channel on Vine. The Club will thus be boosting its multimedia content on a platform that will present its more light-hearted, fun and creative side.
Vine is a free app that's built into Twitter that displays six-second videos on an infinite loop. FC Barcelona has more than 25 million followers of its different Twitter accounts and anyone who wants to add to this new experience will be able to enjoy exclusive videos and thus play an active role in the creation of content on the channel.
User content on #VineFCB
Unpublished images, exclusive videos, soccer skills and all kinds of loops will feature among the different content that users can start enjoying today. FC Barcelona is inviting all of its users to use the hashtag #VineFCB to take part in the launch and show their passion for FCB in the form of six minute videos. The best offerings will be linked directly to FC Barcelona and published on the official account, stating the names of the users that created them.
FC Barcelona has more than 150 million fans on its different official accounts on social networks, making it the number one sports club in the world. Just a few days ago it presented its new official WeChat channel and today has added yet another means of communication with its fans around the world. With 40 million users worldwide, Vine will serve to raise Barça's profile to even greater heights than ever.