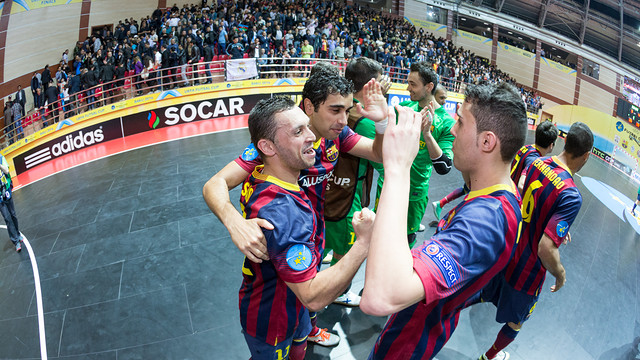 Two saves from Sedano and a decisive score from Torreas in the penalty shoot out took Barça into the final
Barça had taken a 1-3 lead only for Azaz to equalise with 15 seconds on the clock
The final will be played on Saturday evening against Dynamo Moscow – the team Barça beat in the final in Lleida in 2012

STATS
Araz, 4
FCB, 4
Araz: Popov, Rafael, Augusto, Foglia i Davi -starting five-: Peric, Fabiano, Felipe, Cujec, Amadeu
FC Barcelona: Sedano, Aicardo, Torras, Lin i Wilde -starting five-; Gabriel, Fernandao, Dyego, Igor, Saad
Goals: 1-0 Rafael (2'), 1-1 Igor (11'),1-2 Aicardo (21'), 1-3 Aicardo (26'), 2-3 Fabiano (27'), 3-3 Foglia (40'), 3-4 Dyego (46'), 4-4 Amadeu (49')
Penalties: Wilde (goal), Fabiano (miss), Lin (goal), Amadeu (goal), Saad (goal), Rafael (goal), Lozano (miss), Torras (goal)
Two Paco Sedano saves and a Jordi Torres goal in the penalty shoot out saw Barça through to the final of the UEFA Futsal Cup after Araz and Barça had ended regulation time 3-3 and then taken it to 4-4 in extra time.  
Hosts start the quicker

Araz started the stronger and Rafael put them one up after just two minutes, which they decided to look after by defending en masse and keeping hold of the ball. Barça responded bravely though and a lovely individual effort from Igor brought them level on 11 minutes, though despite theoir attacking efforts they were unable to add to that before half time.
Aicardo puts Barça ahead

Aicardo was the star of the shpw after the break, taking charge of the team and finally getting the second goal on 21 minutes and then adding another to give Barça a clear 1-3 lead. Fabiano reduced the deficit soon after, but Barça appeared to have done enough until Foglia made it 3-3 with just 15 seconds left on the clock.
Extra time drama

With two five minute halves for extra time, Araz again looked to close down spaces and keep possession, but it was Barça who went ahead when Dyego scored with four minutes left to play, only to be frustrated again when their hosts scored another late equaliser to take the game to penalties.
Sedano saves the day

Paco Sedano proved the key tpo the penalty shoot out, with two saves – one from Fabiano and another from David, whilst captain  Jordi Torras made no mistake with the decisive penalty to put Barça through to Saturday's final.