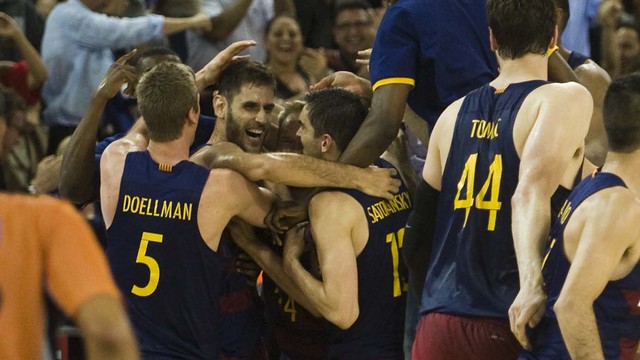 Perperoglou's basket right at the death hands Barça a dramatic victory in the first match of the series
MATCH STATS
FCB Lassa: Doellman (19), Navarro (10), Satorasnky (13), Perperoglou (18) and Tomic (14) –starting five- Abrines (7), Samuels (7), Ribas (3), Oleson (6) and Vezenkov (3).
Real Madrid: Maciulis (8), Rodríguez (6), Ayón (11), Thompkins (4) and Taylor (2) –starting five- Rudy (9), Llull (14), Carroll(21), Reyes (13), Nocioni (7) and Hernán (4).
Score by period: 22-22/25-26/33-27/20-24
Officials: Juan Carlos García, Miguel Ángel Pérez and Calatrava
FC Barcelona earned a dramatic victory in the opening match of the Endesa League final over Real Madrid at the Palau Blaugrana on Wednesday.
With the lead constantly changing hands in the closing stages, up stepped Perperoglou to hand Barça a 100-99 win to lift the roof of the Palau.
Madrid began the game rather erratically, making a number of errors and miscalculated passes, something which the home side seized upon, and after five minutes, Barça had a healthy 14-4 lead. By the end of the first quarter, however, the visitors regained their composure, bringing the score level to 22 apiece.
The response from the Catalans was just what the doctor ordered: three consecutive trebles – two from Doellman and one from Ribas – reasserted Barça's early dominance. Yet Madrid were not willing to back down, as Carroll and Maciulis hit three-pointers of their own to edge their side one point ahead going into the break.
The difference between the two sides was almost minute. Midway through the third saw the pair go level-pegging once again, at 61-61. Trebles from Navarro and Doellman saw Barça go six points clear, only to see the lead brought back to zero by that man Carroll again, with two back-to-back threes.
The final stretch saw the lead change hands on multiple occasions. Big moments require big players, and Barça had captain Navarro to thank for a 2+1 with two minutes to go to put the team 97-95. Madrid nipped into the lead (97-98) yet the best was left until the very end. With just three seconds remaining, Perperoglou scored a spectacular basket to send the Palau into raptures and hand Barça a 1-0 series win.
The second match will take place at the same location on Friday at 7.00pm CET.