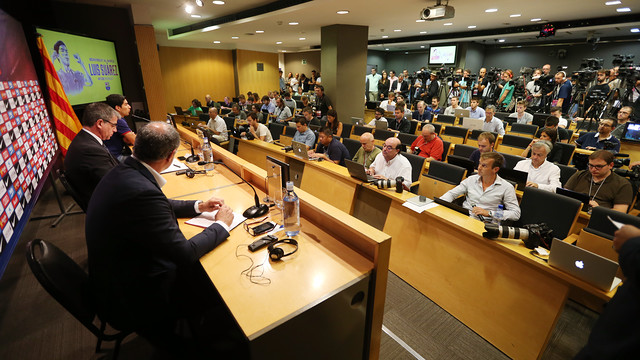 Correspondents who attended the Suarez presentation felt that joining Barça could be a new start in his career
They stressed the impressive talent of the Uruguayan striker: "he'll bring so much to Barça" they indicated
"I was depressed but I'm now really enjoying myself, alongside Messi and Neymar", headlined the Gazzeta dello Sport regarding the Luis Suarez presentation at FC Barcelona. The arrival of the Uruguayan striker at Barça is newsworthy. The international media have echoed Suarez's first official press conference as a Barça player. "For the 'Gunfighter' it was a very special day", was the headline in Ovación, the sports supplement of the Uruguayan newspaper, El País; "Luis's catharsis", headlined El Observador: "it was a great feeling making my debut at the Camp Nou", stood out amongst the headlines in Montevideo.
International media at the Camp Nou
Digital editions of newspapers around the world emphasised Suarez's wishes to start a new phase under Luis Enrique. Journalists from around the world praised the attacking flair of the new Barça striker. The correspondents who attended the presentation also noted that his arrival at Barcelona could mark a new beginning in the career of the former Liverpool star. Thiago Arantes, of ESPN Brazil, said that joining Barça will "help him a lot in his career as a player…..he'll bring a lot to Barça" he said. He also wanted to emphasise the virtues of Suarez as a striker "he's a player with a powerful long shot, very good in a one-on-one situation, and can adapt to different attacking positions: down the flanks, as a false number 9, or as a central striker".
"A player who arouses a lot of interest"
The BBC correspondent Tom Burridge said: "It was really something seeing so many people from around the world at the Camp Nou, and most of them speaking about Suarez. He's a player that sparks a lot of interest, especially in England, as he played for Liverpool. Many believe he was the best player in the Premiership last season" he recalled. "For his goals, he's very quick with the ball, in attack … he's very dangerous". Burridge indicated that at Barça he'll enjoy a new status as "he's surrounded by players of the same level: there is tons of talent here, it will be very interesting to see him play alongside Messi and Neymar". "He's a player who has everything" Pete Jenson, a reporter for the Irish Independent, said on Barça TV. "Last year, 70% of the goals that Liverpool scored came via Suarez…he's a good replacement if Messi can't play in any particular games. He is perfect for Barcelona".
The arrival of the Uruguayan at the Camp Nou will mean that British media "are looking even more at Barça, although we are always looking at Barça" he said. "When Luis Suarez said that it was his dream to play at this club, he did not invent that, because he has always said that he wanted to play here. It was his real dream which is now fulfilled". For Jenson he's "a player like no other in the world, because he has the rare mixture of aggression, intensity and the skill and touch of a great striker". The representative of the French newspaper,  L'Equipe, Lionel Dangoumau, said of Suarez that he is "the best striker in the world today" and his presence in the Barça team "will arouse media interest in France".