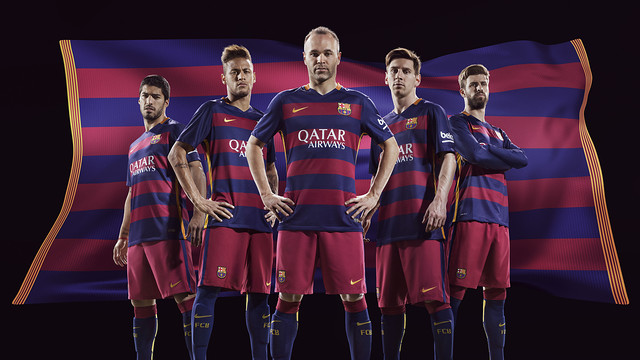 The famous Barça stripes will be hoops, inspired by the horizontal stripes of the Barça flags that fans wave on match days at the Camp Nou
On Tuesday 26 May the 'blaugrana' shirt will be on sale at NIKE.COM/FCB and club shops
Pride, passion and history
 "These new kits are a homage to the club, its fans' passion and its incredible sporting history", comments Martin Lotti, Creative Director at Nike Football. "The kits are the result of a close collaboration between FC Barcelona and Nike and reflect a profound understanding of the unique cultural importance of the club and our shared commitment to revolutionising the sport of football".
FC Barcelona next season will have a new kit from Nike in which the famous blaugrana stripes will be horizontal by the horizontal stripes of the blaugrana flags that are waved by the fans on match day at Camp Nou. The horizontal stripes have been seen before on kits for the basketball, rugby and track and field teams at FC Barcelona. However, it is the first time in the long and rich history of the Club that the football team will have horizontal stripes on their kit.
On 26 May the shirt will be available at NIKE.COM/FCB and in the shops.
The four maroon horizontal stripes stand out on a blue background, a design that is 100% blaugrana for fans all over the world. A yellow gold rivet with four thin red stripes surround the outside part of the collar, stylised and modern and on the inside of the collar the club's famous logo 'More than a Club' can be seen, just as it can be in the stands at Camp Nou.
The yellow golden stripe on sides of the shirt continues down the shorts which are in the classic red of FC Barcelona.
The new socks for the first team are blue with a red stripe in the top part where a wide stripe of small chevrons in the calf area can be seen in golden yellow.
Both for the first and second kits there will be a special form of lettering for the names and numbers of the players, more refined and thinner for the coming season.
Check out the Nike developments
READ MORE +